My own Muse – Synthetic Ruby
€58,00
Handmade Ring in 925 Sterling Silver with Synthetic Ruby Gemstone by Bobodrifter.
DETAILS
– Sterling Silver
– Coral Stone in a Bezel Setting
– Finished with a Brushed Textured Ring
SIZING
– 8mm round Aragonite bezel set on 2.5mm silver ring.
– Please ensure you order the correct size.
Related Products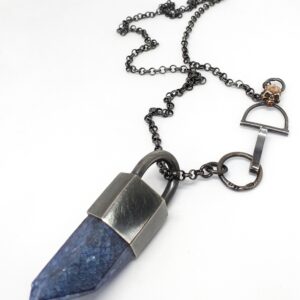 Talisman with blue Hematoid
The Talisman piece of jewelry is a handmade " one of a kind" necklace. Every stone is a power from Mother Nature, a natural crystal end they all be different in shape, color and size. Here in oxidized sterling silver with blue hematoid quartz and bronze skull . The pendant with the stone is 7 cm on a 65 cm oxidized silver chain.
€

280,00
Add to basket