Ripple effect Iolite
€89,00
Just as ripples spread out when a single pebble is dropped into water, the actions of individuals can have far reaching effects.
"Dali Lama"
Earring in 925 silver and Iolite or it is also called water sapphire because it shifts in blue, green and turquoise.
1 in stock
Related Products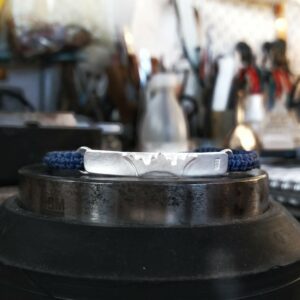 Bracelet – Everyday Princess
Bracelet with soft brushed 925 silver and macramé braid waxed cord.
Pull knot at the back and finished with two small silver bullets.
Waxed cord is durable and can withstand water and normal activity. You don't need to take it off when you exercise or do outdoor sports. The silver plate is brushed to get a soft expression and can become a little shinier over time.
Chose size on the bracelet up to 17 cm or over 17 cm on the wrist
€

89,00
Select options