Pirate Life – Silver Pin
€139,00
Handmade Silver pin with skull, small bracket on the back so you can attach a flower or similar. Cool detail on your suit or jacket.
Related Products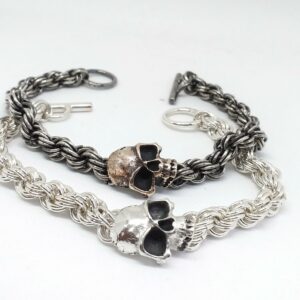 Pirate life – Silver bracelet with skull
Bracelet with handmade silver chain with skull. If you choose the bronze skull it come with a handmade and oxidized silver chain that we brushed and polished to get a cool patina look.
The silver skull have oxidized eyes and it come with the same handmade silver chain that is polished too perfection.
€

450,00
Select options