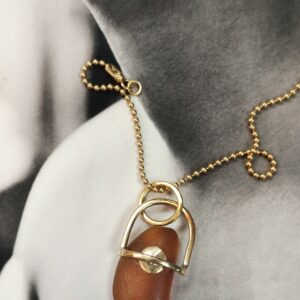 Orange Sea Glass Pendant
Buy me now or lose me forever!
The rare orange sea glass in this beautiful handmade pendant is collected by us along the Mediterranean coast in Ibiza, Mallorca, and  the beaches around Barcelona.
Each piece of sea glass that gets washed up on the shore is unique therefore colors, texture, and size do vary and that's why it creates a one of a kind piece of jewelry.
Material: Sea glass , Brass, Suede leather string
Wide: 4 cm
Length: 4,5 cm
Glass length: 2,6 cm
The Ocean collection is a mix of wanting to take advantage, beautify and recycle human waste. Is a one-of-a-kind, no one ever will be the same kind of jewelry. We use the broken glass that has been polished and shaped soft with the eternal movements by waves and sand. What the glass once was, we can only fantasize about. We find them and wash them and mix them with sterling silver or brass.  (We also pic land-washes garbage/plastic at the same time, but that we throw away where it belongs) This jewelry collection is a part of our eternal gathering of what we find along the coasts we sail. Every jewelry is made, as usual, with love and care onboard Bobodrifter.Ocean – a Love story; is a tribute to recycling and our love to the great oceans that surround us. Our jewelry in sea glass tells a story of history and giving waste a new life!
€

119,00 –

€

139,00
Select options